I attended a local start-up accelerator program called Ajujaht. Unfortunately, the jury decided not to select Mechanical Difficulties to be one of the TOP 30 ideas that were presented there, so for me, this season of Ajujaht is over.
Judging by the title and the introduction of this post, you might think this is a sad post. Not really. I'm glad for the experience I received and the people I met. I'm just unhappy I didn't get to do it longer.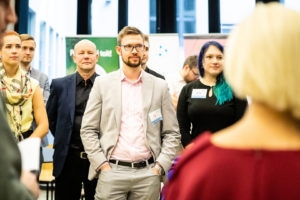 picture from the Ajujaht facebook page
How it went down
It all happened this past weekend. I was invited to present my idea's pitch on Saturday morning. I was at the location at 9 AM mingling with other contestants. At 9:30 AM they asked us to sign up and check when and where we were listed to present our pitch.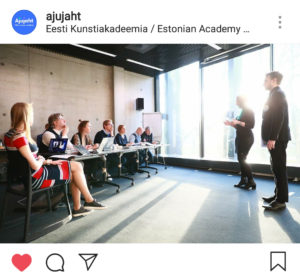 There were two rooms (and two sets of judges) for pitching. The one on the second floor was a nice sunny room where only the judges were present, listening to the pitch. And the second room was on the fifth floor, which was completely dark, full of cameras and a spotlight in the middle, where the presenter was supposed to stand and pitch.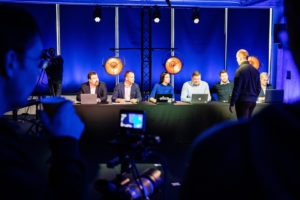 picture from the Ajujaht facebook page
They told us to keep in mind "It doesn't really mean anything if you are selected for the dark room. It doesn't mean you will get to the next round. It just means that the television selected some ideas they wanted to record in there.". Everybody who was selected to be filmed had extra activities they had to perform. They had to:
film a "selfy" video with a phone camera that was going around
ride a certain elevator up to the pitching room (the elevator had cameras)
pitch in the dark room
ride the elevator down again
give an interview to a reporter and a cameraman
My pitch
I was selected to pitch at the dark room where they recorded everything. When I had signed up, I received a number "4". That meant I was going in quite early. Every presenter had 3 minutes to pitch and 5 minutes to answer questions. After I had made my "selfy" video I was asked to wait by the elevator that was going to take me up to the pitching room.
I waited for about 20 minutes in front of the elevator – or so it seemed. I was getting nervous. The volunteer that was waiting with me tried to calm me down a lot. I revised the pitch that I had learned and worried about messing it up in front of the cameras. It wasn't something I was used to – recording game development updates is a lot different. If I mess something up at home, I can just cut it out and try again. You can't really do that on television, it's out of your hands.
My time to pitch
Eventually, the previous pitcher took the elevator down and I stepped into the elevator. I rode it up and made my way to the pitching room. I stood in the light, holding a tablet computer, showing a video of my game Mechanical Difficulties. Surprisingly, at this moment, my nervousness had been wiped away and I felt comfortable. The lines that I had memorized just rolled of my tongue and I was ready for questions.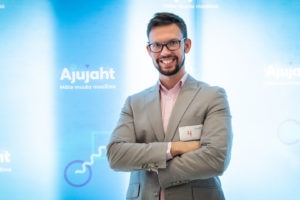 picture from the Ajujaht facebook page
The jury was a bit puzzled why a children's game has to have weapons in them. Other than that the experience was positive. My time was up and I rode the elevator back down, feeling a great relief. All I had left to do now was give an interview. But that was nothing compared to what I had just accomplished.
I relaxed a little and discussed my experience with other contestants. Then went and gave the interview. The interview was simple and comfortable for me now. I discussed my experience performing and my thoughts and feelings overall.
When I finished the interview I felt great. I had greatly pushed my boundaries that day.
The verdict
Because there were 100 ideas to be presented and only two groups of judges, the pitches were spread out on two days – Saturday and Sunday. I pitched on Saturday morning, and the decision for the TOP 30 was announced on Sunday evening.
We all gathered on a wall of stairs and Harri the main organizer of Ajujaht started announcing the TOP 30 ideas one by one. All of the winning teams would receive a big plastic card with their name on it as a reward.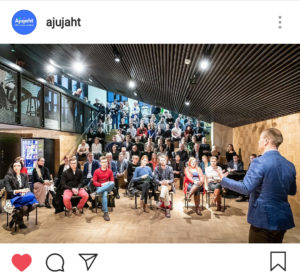 The ideas were shouted out and cheered for one by one… until they ran out of cards… and Mechanical Difficulties wasn't named. We didn't get to the TOP 30.
Happy for the experience
It is sad that Mechanical Difficulties didn't get to the TOP 30 but certainly, it wasn't a huge loss. I'm happy I got such a big experience out of this weekend. I've never been in front of so many cameras at once, being part of such a big production. I am grateful!
The development for Mechanical Difficulties continues and so does the search for funding. I will have to go over the pitch again and analyze what might have been the biggest flaw in my pitch for the jury. You always have to learn from your experiences!
It is very likely that they will show clips of me on the Estonian TV3 when Ajujaht airs in April next year. So keep an eye on it if you want to see me there.