If you follow me on Twitter, then you already know I went to Poland a few months ago. I was there to attend a game developers conference called GIC (Game Industry Conference). These conferences are the best way to find a business partner for your game studio – in my case, a publisher.
The journey started on Wednesday, 10.October in Tallinn Airport. I had packed my laptop, some clothes, and some camera gear. Previously I had flown only a few times, and that had always been with friends. That made traveling alone by plane a little scary for me. I had connecting flights through Warsaw and when I arrived in Poznan, to my pleasant surprise, it was WAY warmer than it had been in Tallinn earlier the same day. I grabbed a local sim card (really cheap) to use mobile internet and settled into an Airbnb room that wasn't too far from the airport.
Poznan gave a really nice vibe. People seemed positive, the city was nice and the public transportation was very well organized. For me as a first-time visitor, it gave a very welcoming feeling.
On the second day (Thursday) I already went to the Poznan International Fair area where the event was about to be held. I was blown away by the magnitude of the event area. It was like a closed off part of the town with separate streets and huge buildings/halls. The official event was planned to start there on Friday, but GIC squeezed in two pitching competitions the day before. I decided to attend both of these events because it's a great chance to meet publishers this way.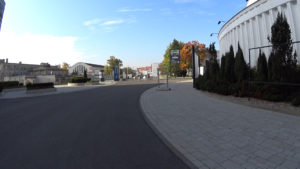 Poznan Game Arena
When I arrived back at the Poznan International Fair area the next day (Friday), people were swarming in. It turned out that GIC wasn't the only event being held at that time. There was also the Poznan Game Arena (PGA) gameshow that was held and I could attend with the pass I had. So GIC was in one building and PGA was in 7 separate huge halls.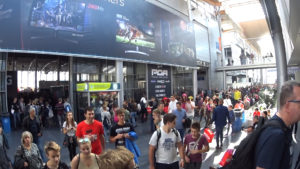 It was breathtaking! Walking around PGA – the stages, booths, mascots… everything was so huge! I've never been to such a big game show before. Children and teens were running in joy, gaming left and right. Everyone was having fun!
Game Industry Conference
Right next to PGA was the conference I came for. It was a lot quieter and more professional. It was funny to think that we are here, doing business, so that we create joy to so many people that can fill the halls next door.
Game development conferences are places where different game dev companies get together. Everyone who comes usually has some goals. That might be making new contacts, or just acquiring new knowledge. There is usually a closed off (quieter) area for people who want to have business meetings.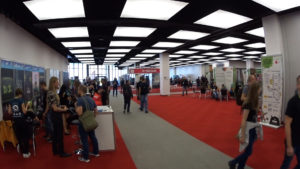 In total, I had 19 meetings pre-planned in GIC. Most of them were with publishers. I've been working on getting the development of Mechanical Difficulties funded for months now. Partnering with a publisher is one (smart) way of going about it. They are probably the best business partner you can have for your game, because they have experience releasing game(s) successfully, critical contacts and financial capabilities.
I had my meetings for three days straight and enjoyed some parties that were thrown. And then I admired the local architecture Poznan could offer before my trip came to an end.
I really enjoyed Poznan, the GIC and the PGA. I got loads of great contacts, interested publishers and awesome new friends. It was a critically important and fun business trip that I would recommend to anyone in my position!