It's only a month from now when I will showcase Mechanical Difficulties at the Game Dev Days conference (16-17 April 2018). That marks the end my 6-month journey, that I described when I started this blog.
I can already feel the stress building up. In fact, I have been feeling it for a few weeks now. This is very important to me. I want to make this work. I want to turn Venomite Studios into a real company. I want to build a cool office space ground-up with a motivated team alongside me and work there on our game.
But that's only what I want, and there is no way I will get it if I don't deliver something good. That is why the stress has been building too. I am this close to achieving my dream!
Because of that, I haven't felt like writing blog posts or reading any books. I'm nervous about going to the conference with a game that is not enough. That also allowed my confidence to slip a little and it probably reflected in one of my last blog posts. So all my spare time I have felt better spent on developing Mechanical Difficulties.
Luckily, I am on schedule with the game's development. 🙂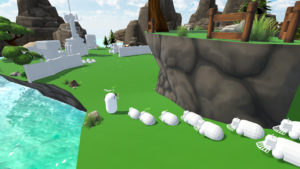 The game has visually changed a lot. To see more check out the gallery!
That being said I'm not that proud of my reading progress. I set a goal to read 15 books in 6 months. I'm only on my 5th book… Yikes! Worrying about the game, I've found it difficult to allow myself to spend time on reading. The fact that I also read fairly slow compared to most people, doesn't help either. 😛
Acknowledging the stress and worry that had built up I decided to take a few days off to gather my thoughts and charge my batteries. I went out with friends and just chilled out a little. I feel I needed that, I feel recharged now. After all, I'm doing this because I enjoy it! So let's jump back into action! I have several things to attend to before the conference. Let's kick some ass!
Gameplay polish & testing
Adding new features until the day before the conference would be stupid. There will always be bugs. Risking an unplayable demo for a few small features would just be dumb. That's why I will not be spending the whole last month on developing the game. Instead, I will focus more on branding. I will add the prototype's last gameplay features in the upcoming week and that will be it for now.
Then I will start testing it with several different groups to assure that everything works as planned and everyone who tries the game can get maximum experience.
I will also need to set up a portable rig of 2 computers and a working local network. I just can't rely on having proficient wi-fi everywhere I decide to playtest – especially at the conference.
The SWAG
Then it's time for merch! Stickers, flyers, business cards, shirts etc, similar to what I once did with Bunnyhop. I'll only have a few weeks to design them all and have them ready at my disposal. It will be good to have a presence wherever I go to present the game, having the game's and the studio's logo showcased all around the area.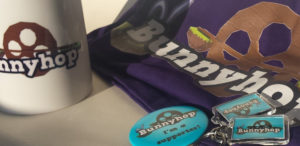 When I was promoting my last game Bunnyhop I had all kinds of merch
Small note, I'd recommend following me on Twitter @PaulSokk if you want to see quick small updates throughout the following weeks. I will probably be posting photos and small updates there more frequently at random times.
The knowledge
Starting with the Game Dev Days conference I'll start putting a lot of my time to business development. I then have a working demo and will start networking around to find ways to turn this all into a business. I'm sure there will be people who see the game's potential and will be willing to bet their money on it – collecting a percentage of profit from the game's sales later of course.
That being said, I have been researching about start-up funding online, but have yet to pick up any books on that topic. I was planning to, like I've described before, but just haven't gotten to it yet. I have now ordered a list of books that should help me out with that and read through at least one, before agreeing to any upcoming business deal. It's an interesting world out there and I'm excited to soon be competent enough to jump right into it!
Needless to say, I have a lot of stuff to worry about and a lot of stuff to get done. Being in the middle of this, I feel it would be lovely to have a team right now! 😀